EUROSIX two-piece close fitting, ventilated and plain wing fibre cement ridges
---
At Briarwood, we're proud to offer a range of high-quality, two-piece fibre cement ridges that are designed to fit perfectly with our EUROSIX fibre cement sheeting. Our two-piece ridges come in three styles: close fitting, ventilated, and plain wing, and they are an excellent option for structures with a pitch from 10 to 40 degrees.

Our two-piece ridges can be tailored and adjusted to fit degrees up to 40, making them a flexible solution for any roofing project. However, it's important to note that two-piece ridges must be closed off at the ends of the roof using finials, which we also manufacture at Briarwood.

Like our one-piece ridges, our two-piece fibre cement ridges are used to close the gap between the two slopes of the roof on the apex, providing a clean, finished look that is both functional and attractive. All of our two-piece ridges come in Natural Grey as standard, but we can also manufacture them in any colour from our Standard Colour Range, giving our customers even more design options.

At Briarwood, we take pride in our commitment to excellence, and we strive to manufacture the highest quality products that meet the needs of our customers. Our two-piece fibre cement ridges are no exception, and we're confident that they'll provide you with the perfect finishing touch for your roofing project. So why wait? Contact us today to learn more about our two-piece ridges and how they can help take your roofing project to the next level.
Colours




Available
All of our two-piece fibre cement ridges are stocked in all of our Standard Colour Range options.
Standard Colour Range
---
Colour options help new buildings fit seamlessly with the landscape and assist with planning approvals.
Two-piece adjustable fibre cement ridges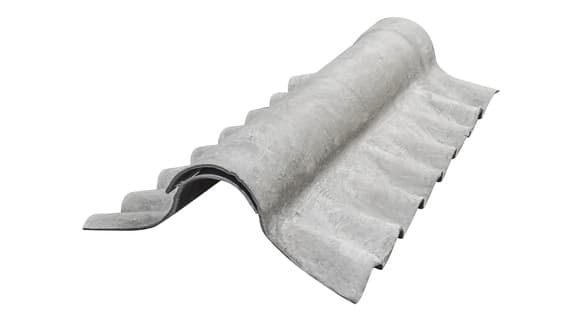 Two-piece close fitting fibre cement ridges
Fits into the corrugations of EUROSIX sheeting and closes gap at ridge section.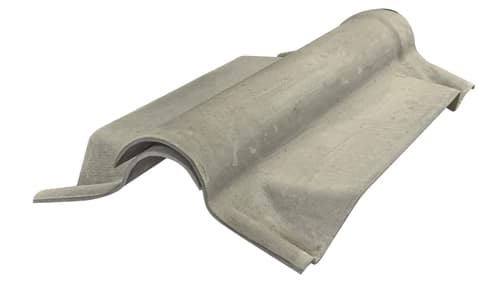 Two-piece ventilated fibre cement ridges
Suitable for continuous or part ventilation in combination with close fitting ridges. Continuous use requires a pair of close fitting ridges sited at each end of the run (start and finish of ridge detail).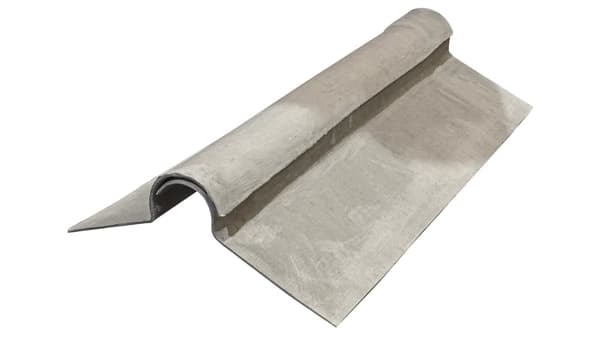 Two-piece plain wing fibre cement ridges
Offers minimal ventilation and sits on top of EUROSIX sheet corrugations.
TECHNICAL DATA
| | |
| --- | --- |
| Cover width | 1016 mm (same as our EUROSIX fibre cement sheet) |
| Degrees: | To be used on pitches 10 to 40 degrees |
| Profile | To be used in conjunction with EUROSIX fibre cement sheets |
| Standard colour | Natural grey |
| Class | C1X |
| Units | Comes as two pieces: inner and outer |
IMPORTANT
You should close of the open ends of the ridges using a finial using the correct corrosponding bargeboard to ensure a flush and tidy ridge detail.
These ridge types may not be suitable for buildings that require large volume of ventilation or airflow. We have a technical department where new or existing customers can conect for specialist advice.
Delivered direct-to-site when you want it; where you want it.
---
We have invested heavily in our own in-house transportation network, which includes a fleet of over 20 specialist vehicles. This allows us to deliver any size order within 3-5 working days. If you don't need your fibre cement order that quickly, you can also choose a specific delivery date and we will make sure it arrives on time.
Learn more